Hospital Safety Score
The Hospital Safety Score is an initiative of The Leapfrog Group, a national nonprofit organization using the collective leverage of large purchasers of health care to initiate breakthrough improvements in the safety, quality and affordability of health care for Americans. The flagship Leapfrog Hospital Survey allows purchasers to structure their contracts and purchasing to reward the highest performing hospitals. The Leapfrog Group was founded in November 2000 with support from the Business Roundtable and national funders and is now independently operated with support from its purchaser and other members.
We are the ONLY hospital in St. Petersburg to earn an "A" in the Leapfrog Fall 2015 Hospital Safety Score!
---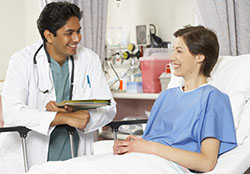 HCA West Florida is committed to improving patient care in the communities we serve. Our Clinical Excellence program builds on best in industry performance – resulting in improved patient safety and clinical outcomes.
100 Hospital Quality Leaders are certified or licensed in this area
Facility-based Chief Medical Officers work with physicians to drive Clinical Excellence
Patient Mortality for Septic Shock Decreased 5%
Blood Transfusions Dropped 26%
9 Hospitals recognized as Top Performers in Key Quality Measures by The Joint Commission
13 Hospitals received an "A" or "B" Hospital Safety Score from the Leapfrog Group in 2015
Our Clinical Excellence initiatives are focused on quality improvements in a number of key specialty areas including heart attack, open heart surgery, blood stream infection, hip/knee surgery, back surgery and stroke. By leveraging HCA's national scale, we can bring high quality personalized care to our patients.
HCA Innovations
As part of HCA, we bring innovative health solutions to the communities we serve.
---
First national health system to mandate flu vaccination
March of Dimes collaboration to prevent early elective deliveries (39 weeks)
MRSA Reduction Efforts - new standard preventing life threatening infections
HCA's Sarah Cannon Research Institute is clinical trial leader in more than 75% of approved cancer therapies
Patient Safety Resources
The Florida Agency for Health Care Administration introduced this website to help the public make well informed health care decisions. With accurate and trusted health care information and tools to compare health care providers and facilities, consumers can make informed choices.